I've googled the phrase "The Early Bird Catches The Worm", believe it or not. I thought just maybe I'm missing somthing.... I was being optimistic you see. A few images came up as well and I found this one quite amusing: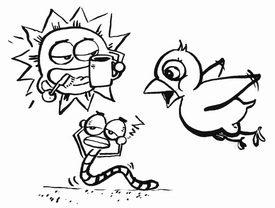 In all honesty, I do get up very early every morning, including weekends. Weekdays for obvious reasons and on Weekends because Stella does not think that sleeping-in is an option. We are lucky if we can sleep until 7am on a weekend. Of course once I am up, there are ALWAYS things to do. Weekdays I need to rush to get myself and then the girls ready for work and school, but looking at this picture, I probably look more like the sun than the bird! Sadly coffee has to wait until I get to work.
I think in my case as with many other Working-Moms (as well as Stay-At-Home-Moms who's work never ends) the phrase should rather be "the early bird catches extreme exhaustion!".
Nika is teething at the moment, her second molars are coming through, so she has been grumpy since the weekend. It is getting better, but she had interrupted sleep in the beginning of this week, which means that Hubby and I also had interrupted sleep. She must have woken up 5 times during the night. Since then she's been sleeping better.
On Tuesday night the girls' new bunk bed was delivered. I was nervous to let Stella sleep up top, simply because she gets up during the night and I was scared that she will fall trying to get down. When she saw the bed she was super-excited and couldn't stop saying "thank you Mommy, I love you Mommy!". It is so nice to see that they actually like it. She's been sleeping up top since it arrived and Hubby assembled it and it has been absolutely fine. What a relief!
I don't know if it was out of pure excitement about the new bed or just the fact that things are rearranged in their room, but Stella has been waking up regularly during the night every night where previously she used to wake up only once every night. Even at 4 years old she doesn't sleep through. Since the bed arrived they want to spend more time in their room, which is nice, because now they are finally playing with their toys where before all Stella wanted to do was watch dvd's or read a bible story and colour in, but on the other hand, all the excitement causes for very little sleep. I am feeling a little bit like what I would imagine a zombie feels like.
Here's me looking forward to the weekend, trying to ignore the little voice in my head reminding me of the enormous load of clothes and bedding to be washed.....
Have a great one!